MOMICARE gently and deeply massages, cares for, and heals your body, providing the comfort that only a medical device can, as well as the kind of high-quality relaxation that sets your body and heart free.
You can enjoy convenient massaging while doing other things.
If you want to ease stiffness, pain, and fatigue immediately and completely, but find it difficult to set aside the time to do so, MOMICARE is the type of low-frequency pulse massager for you.
MOMICARE conveniently massages you anywhere, anytime while you do other day-to-day things.
Where will you experience massaging "while doing other things"?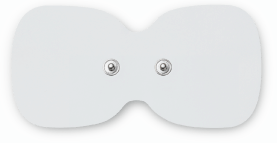 MOMICARE employs a soft cushion gel sheet.
The cushion gel sheet has a smooth feel that makes it pleasant and enjoyable to use. It can be removed and replaced, and multiple sheets can be used – one for each family member.
* Use the MXTS-200GEL series gel sheets as replacement sheets.
MOMICARE gives priority to ease of use and safety.
MOMICARE's thoughtful design enables you to turn it on and set the mode and strength by hand before attaching it where it is needed. The body detection sensor automatically stops MOMICARE as soon as the gel sheet leaves your skin.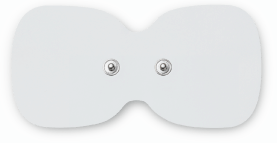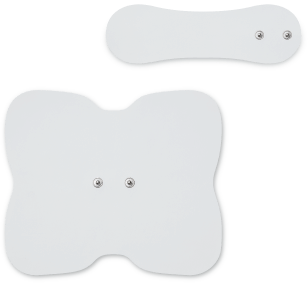 Dedicated gel sheets for each part of your body.
We recommend using these when you want to intensively massage the soles of your feet or massage a wide area such as your waist.
* Spot type/Wide type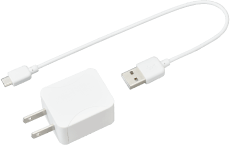 Cordless and rechargeable
MOMICARE is a compact and cordless massage device with a built-in lithium-ion battery.
A recharging power supply adapter and USB cable are included.
Once the battery is charged, you can use MOMICARE 7 times for about 15 minutes*.
The connection cable (sold separately) enables you to control MOMICARE by hand.
* When the strength level is set to 10 (maximum). The number of repetitions varies according to mode.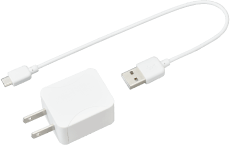 Maxell has utilized low-frequency technologies that have been developed over many years, and has researched various products related to medical devices.
Maxell runs its own factory, authorized in accordance with the Pharmaceuticals and Medical Devices Law, in Tagawa District, Fukuoka prefecture.
Maxell has utilized its extensive knowledge of health care to develop original products that include "MOMICARE".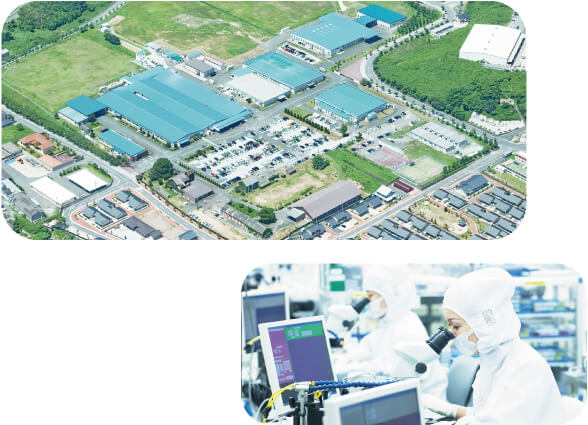 Main unit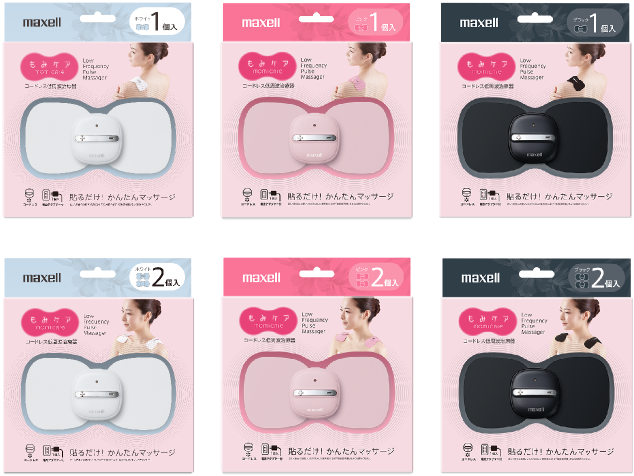 White

1-unit packMXTS-MR200W1P JAN code: 4902580756550
2-unit packMXTS-MR200W2P JAN code: 4902580756581

Pink

1-unit packMXTS-MR200P1P JAN code: 4902580756567
2-unit packMXTS-MR200P2P JAN code: 4902580756598

Black

1-unit packMXTS-MR200B1P JAN code: 4902580756574
2-unit packMXTS-MR200B2P JAN code: 4902580756604
Major specifications
Brand name
MXTS Low-frequency Pulse Massager
Model
MXTS-MR200
Category
Equipment 78 Home-use Electric Massage Device
Medical device category
Controlled medical device
General name
Home-use low-frequency massage device
Medical device ID number
229AKBZX00042000
Rated voltage of main unit
3.7 V DC (lithium-ion battery)
Dedicated power supply adapter (for charging)
Input: 100 V AC, 50 to 60 Hz, 0.4 W
Output: 5 V DC, 0.04 A
Maximum output current
10 mA or less
Maximum output voltage
About 42 V at maximum setting
Power consumption (while working)
About 0.1 W
Power consumption (while charging)
About 0.2 W
Basic frequency
About 1 to 100 Hz
Rated time
About 15 minutes
Output pulse width
200 µ seconds
Timer
Automatically turns off after about 15 minutes.
Quick mode: Automatically turns off after about 7 minutes.
Charging time
3 hours (at 10 to 35°C room temperature)
Major specifications
Set contents (1-unit pack)
Main unit x 1
Gel sheet x 1
Protective sheet x 1
Power supply adapter x 1
USB cable x 1
User manual
Set contents (2-unit pack)
Main unit x 2
Gel sheet x 2
Protective sheet x 1
Power supply adapter x 1
USB cable x 1
User manual
Material
Main unit case: PC + ABS
Gel sheet: Acrylic gel
Dimensions (1 unit)
Main unit: 44 (height) x 44 (width) x 10.5 mm (depth)
Gel sheet: 61 (height) x 125 (width) x 0.5 mm (thickness)
Weight (1 unit)
About 25 g (main unit + gel sheet)
Replacement/dedicated gel sheets (sold separately)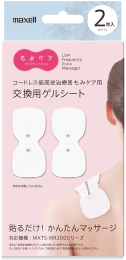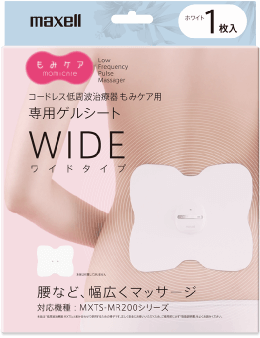 Standard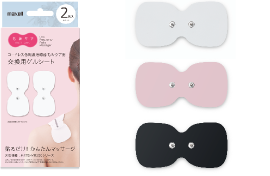 White MXTS-200GELW2PJAN code: 4902580756611
Pink MXTS-200GELP2PJAN code: 4902580756628
Black MXTS-200GELB2PJAN code: 4902580756635
Spot type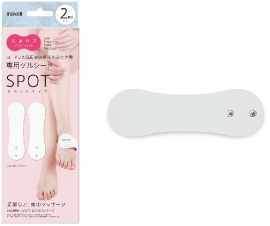 MXTS-200GELFW2P
JAN code: 4902580756659
Wide type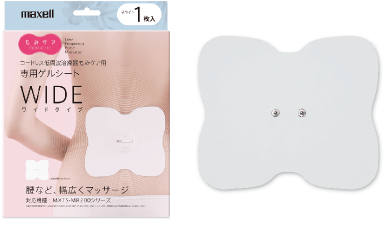 MXTS-200GELWW1P
JAN code: 4902580756642
Major specifications
Standard
Spot type
Wide type
Brand name
MXTS Gel sheet
Model
MXTS-200GEL
Medical device category
General medical device
General name
Inductor for home-use low-frequency pulse massager
Medical device registration number
40B2X10023000001
Color
White/Pink/Black
White
White
Set contents
Gel sheet x 2
Gel sheet x 2
Gel sheet x 1
Protective sheet x 1
User manual
Material
Acrylic gel
Dimensions
61 (height) x 125 (width) x 0.5 mm (thickness)
59 (height) x 190 (width) x 0.5 mm (thickness)
154 (height) x 180 (width) x 0.5 mm (thickness)
Weight
About 12 g (1 piece)
About 12 g (1 piece)
About 41 g (1 piece)
Connection cable (sold separately)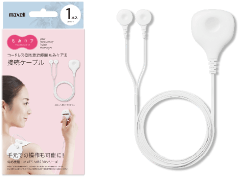 MXTS-200CBL1P
JAN code:4902580756666
Major specifications
Product name
Connection cable
Model
MXTS-200CBL
Set contents
Connection cable x 1
User manual
Cord length
About 1.2 m
Weight
About 14 g