MXHD-1000(* This product is mainly sold through businesses such as hair and beauty salons, etc.)

llexam nano-ion hair dryer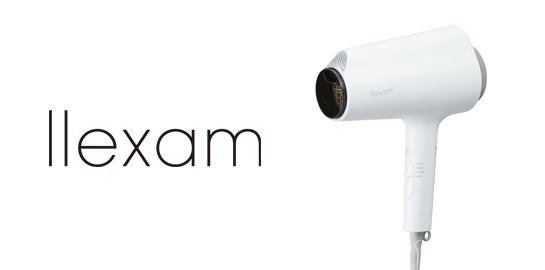 Nano-ions for silky, shiny hair
Maxell has developed a proprietary unit that generates a large number of nano-ions. Dry your hair while covering it with moisturizing nano-ions.
Gently take care of your hair with nano-ions
Dry your hair quickly at a high air volume of 1.6 m3/min
3 levels of heat control and 2 levels of air flow
Nozzle with far infrared grill
Double filter design for dust prevention
Features
Maxell has developed a proprietary unit that generates a large number of nano-ions. Dry your hair while covering it with moisturizing nano-ions.
Maxell has developed a proprietary unit that generates a large number of nano-ions that add moisture to your hair. This unit allows you to dry your hair while covering it with nano-ions.Nano-ions are created when the Peltier element cools fine water droplets in the air, which then condense and combine with negative ions.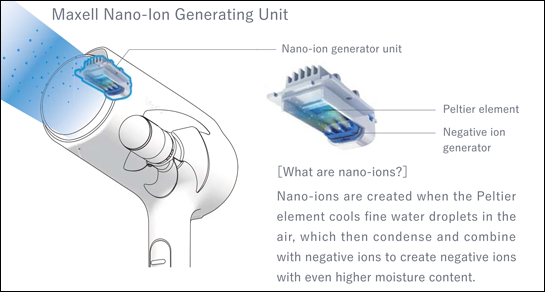 Gently take care of your hair with nano-ions
Nano-ions neutralize the positive charge of hair that has accumulated static electricity, while adding fine water droplets to hydrate your hair, leaving it sleeker and gently caring for hair and scalp.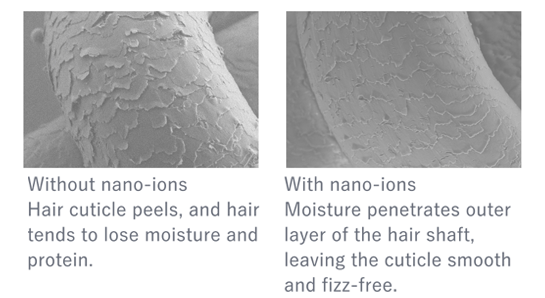 Testing (conducted by Maxell): We measured the damage to the hair cuticle from brushing the hair 500 times while drying it with the nano-ion dryer and a conventional dryer.
Dry your hair quickly at a high air volume of 1.6 m3/min
3 levels of heat control and 2 levels of air flow
Three levels of heat and two levels of air flow allow the user to select the right combination for their hair type and purpose.
Nozzle with far infrared grill
The nozzle is equipped with a ceramic-coated far infrared grill.
Double filter design for dust prevention
The double filter prevents dust from getting into the unit. The rear cover is removable for easy maintenance.
| Product type | Model | Color | Purchase | Price |
| --- | --- | --- | --- | --- |
| Nano-ion hair dryer | MXHD-1000 | White | | Open |
Products displayed with the (icon) mark can be purchased from the Maxell Online Rakuten Ichiba Shop,Maxell's direct-sales website.
The names, logos, and service marks are trademarks or registered trademarks of Maxell and other companies.
The specifications and design of the product shown on this website are subject to change without notice.
The color of the actual product may differ slightly from the photographs shown on this website.
Specifications
Model
MXHD-1000
Input voltage
AC100V 50/60Hz
Power consumption
1200W
External dimensions
About 198 (width) x 90 (depth) x 240 (height) mm
Weight
About 670 g (including cord)
Cable length
2.7m
Switches
Temperature switch:HOT/MID/COOL
Air flow switch: HIGH/LOW
Accessories
Set nozzle, user manual (guarantee included)