Headphone/Earphone
TWS
Graphene
Wireless
for Sports
for Standard
【Models】
MXH-BTW1000
High-quality, powerful sound
Special ultraviolet coating keeps dust and dirt off
Newly-developed chip provides up to about 6 hours of continuous playback
Compatible with Bluetooth® Ver.5.0
【Models】
MXH-BTGD50
MXH-GD50
MXH-GD300
MXH-GD200
MXH-GD100
Characteristics of "Graphene"
Graphene is one of the piled layers of a carbon solid and is the thinnest material. As the carbons bond with each other more strongly than diamonds, graphene has a surface harder than diamond, and graphene's tensile strength, thermal conductivity and electric conductivity are at the highest level.
Effect on the sound
According to graphene's physical properties, the effects provided by the graphene coated onto the vibration plate are described below.
"Velocity" of sound propagation
The vibration plate reproduces the sound in full. Reproducibility is higher in the high-frequency area in particular.
"Hardness" free from deformation even when vibrating
Divided vibration, which causes the vibration plate to generate dull sound, is prevented.
A "lightness", that enables the vibration plate to move rapidly
Offers an extraordinary response and performance advantage
The possibilities of the Nobel Prize-winning material "Graphene"
Graphene is a relatively new material discovered in 2004. The scientists who discovered graphene won the Nobel Physics Prize for "Innovative experiments relating to the two-dimensional material graphene" in 2010. Due to graphene's physical properties, various fields such as transparent-conductive film, high-speed transistors, or seawater desalination plants focus on graphene, conducting research with a keen eye on future applications.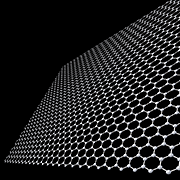 High-definition driver unit that incorporates the graphene-coated vibration plate has been incorporated.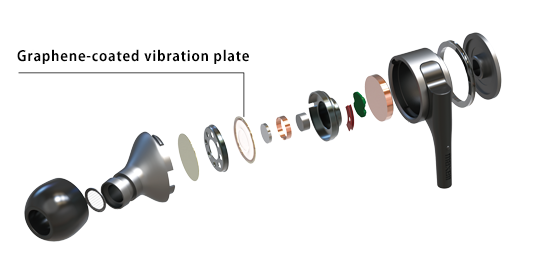 The "m" symbol, featured on models that pursue and are devoted to high-quality sound
"Graphene" features new audio technology and high-quality sound technology, and it carries the "m" symbol that verifies it as one of the products supported by Maxell's solid audio technologies.

【Models】
MXH-BTN350
MXH-BTCF150
MXH-BTC110
MXH-BTC300
MXH-BTC400

【Models】
MXH-BTSP600
Waterproof and washable
Uses the activity support that enhances wearability
Controls do not slip even with wet hands
Comes with an earpiece that features low sound insulation and easily detects external sound

【Models】
MXH-C110S/C110R/C110
MXH-CB200
MXH-CF150
Comfortably and completely fits into your ears